The Future of Data & Analytics | September 30, 2021, | Online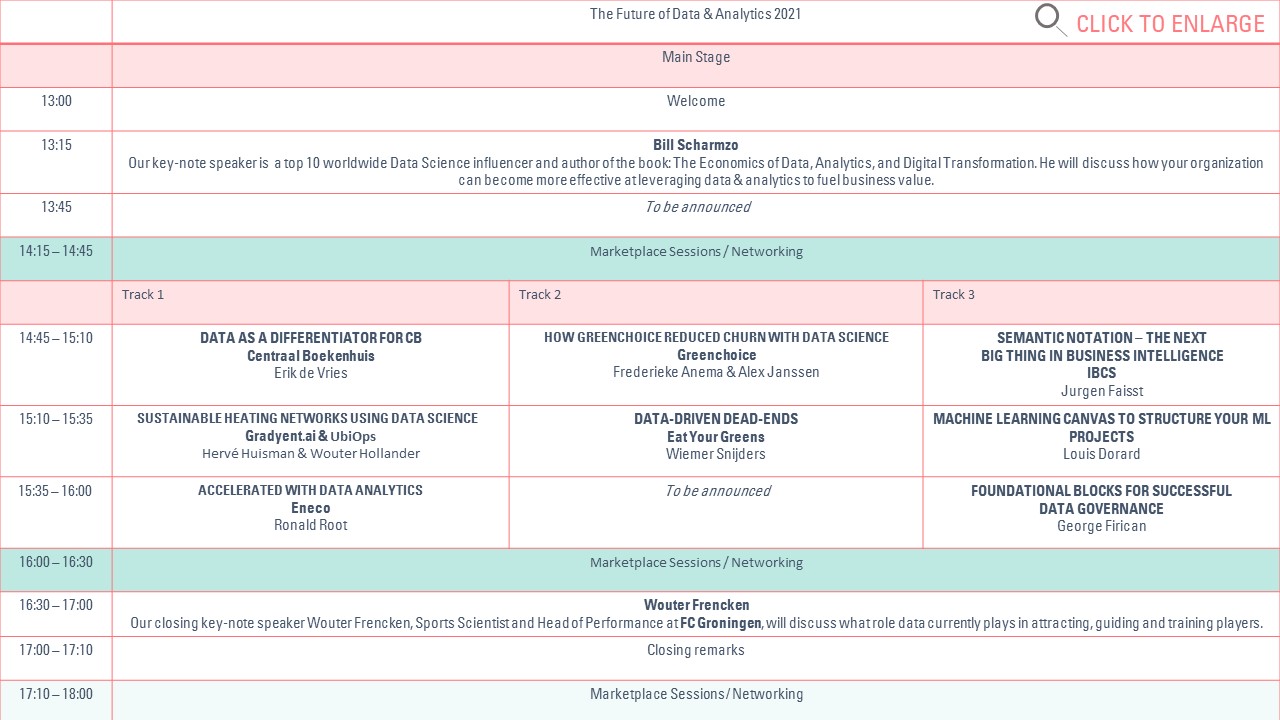 Speakers
Our keynote speaker is Bill Schmarzo, a top 10 worldwide Data Science influencer and author of the book: The Economics of Data, Analytics, and Digital Transformation. He will discuss how your organization can become more effective at leveraging data & analytics to fuel business value.
During our event, leading organizations such as Greenchoice, IBCS, CB, Eat your Greens & Eneco will tell how they digitize their business!
While organizations agree that data management is necessary, doing it all at once can be a daunting program. George Firican will share his thoughts on data management and what steps you should take to ensure adoption and a sustainable program.
In addition, Louis Dorard will explain how to apply the Machine Learning canvas, which he developed during his consultation and is now used by thousands worldwide!
Are you curious about the rest of our program and all of the other speakers? See our detailed program below.
Detailed Program
After the plenary sessions, we provide several tracks (as described above). Each track contains three sub-sessions which will take place simultaneously. Depending on your interest, you can select the most relevant sessions and customize your event to your personal learning needs.
If you want to know what each session is about, check out the extensive program below:
The final program is coming your way well before the event takes place.
Details
Date: Thursday, September 30
Time: 13.00 – 17.00
Location: Online
During this online event, we will focus on three main areas:
Digital transformation and adoption of data & analytics is one thing, but becoming an analytical competitor is a different ball game. Learn from A-players what your organization can do to leverage the latest trends.
Find out how to maximize your marketing efforts by applying fact-based, data-driven marketing and why you should obey the proven laws within the field of marketing.
Several data & analytics leaders will reveal their best practices on implementing a successful data & analytics strategy.
Sign up below! Not able to see the form? Click here for a direct link!