What is Microsoft Fabric?
Microsoft Fabric is Microsoft's new solution, integrating multiple services that can be used across your organization's data pipeline. This enables a more fluent collaboration across your data-oriented activities, from data engineering and data science to data visualization. The foundation of Fabric is OneLake, the single data lake to which all data across your organization is stored. Having only one place where all data is stored in the same format improves computing efficiency and flexibility, removes data duplication and eliminates limitations due to data silos. Each domain/team can work from their own workspace, located within OneLake. They can use any computing engine of their liking, store their data to its necessary format, using a data Warehouse or Lakehouse, and use any application to maximize the insights of their data.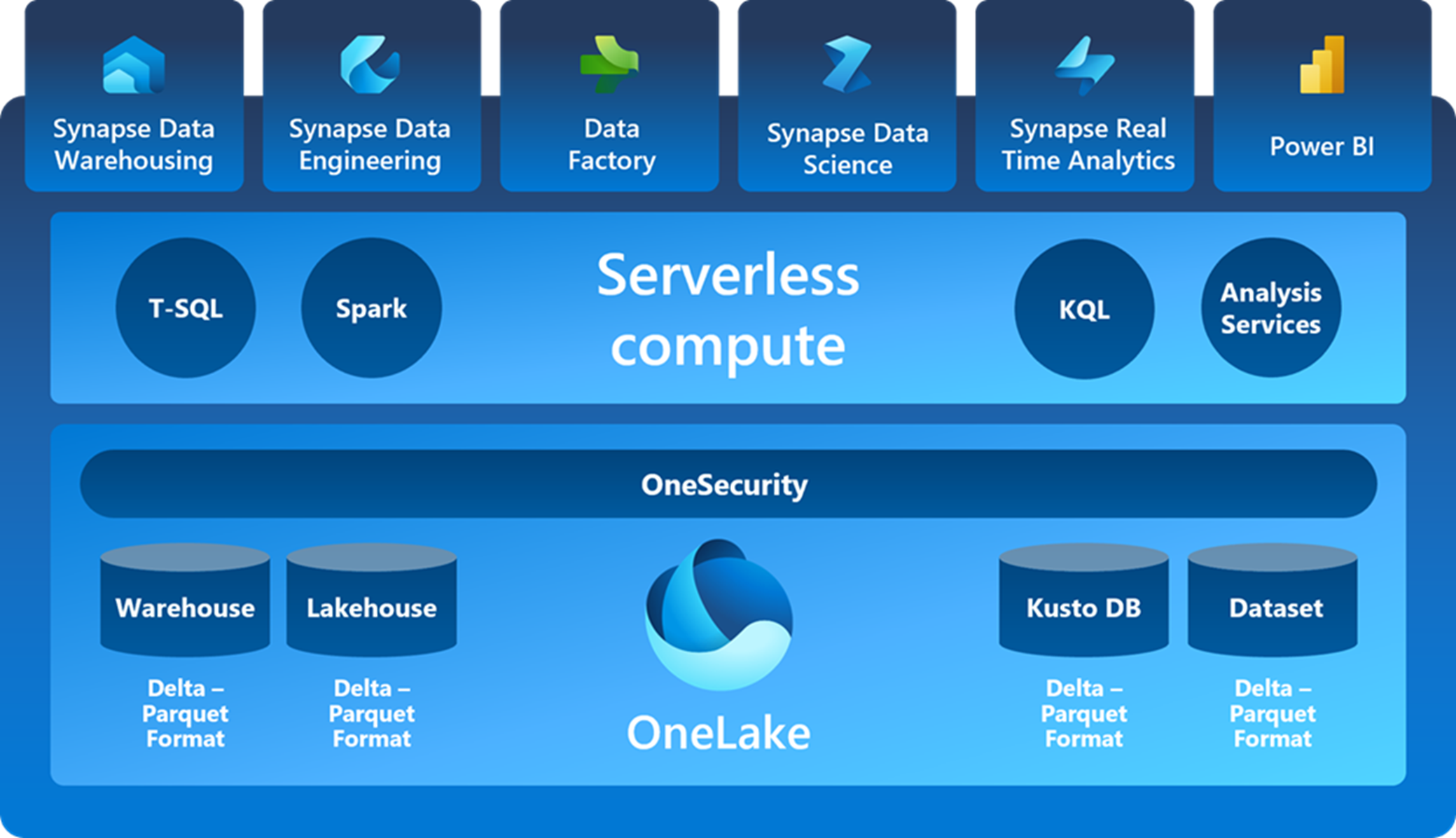 Together with Microsoft Fabric, the AI powered Copilot is introduced. It uses Large Language Models to assist users of any application. By typing any request in natural language, Copilot suggests clear and concise actions in the form of code destined for Notebooks, visuals and reports in Power BI or data integration plug-ins.
What does Fabric offer?
Fabric is a Software as a Service. This means that Fabric is designed to remove the complexity of integrating all data activities within an organization. Simply put, data stored in Workspace B can be accessed in Workspace A via a shortcut between the Lakehouses. This prevents data duplication and improves storage performance. As a result of standardizing the storage of data and combining Data Warehousing, Data Engineering, Data Factory, Data Science, Real Time Analytics and Power BI, collaboration between teams/members is seamless and easier than ever before. This also comes with unified governance principles and computing resource purchases, making them both more efficient for your organization as a whole. Data sensitivity labels will therefore be standardized across domains and data lineage can be tracked across the data pipeline. To empower every business user, it is possible to integrate all insights discovered in Fabric to Office tools. Sharing the results of your Data Science project via mail or sharing your new Power BI report during a Teams meeting is possible with a single click. 

Copilot
Copilot offers all Fabric users the possibility to generate deeper insights into their data. Even inexperienced users are able to successfully complete tasks like data transformations or creating summarizing visuals with help from copilot. However, be cautious with using Copilot. Since it's an AI powered service, its answers depend on your personal input and its answers should always be critically looked at.
Advantages of fabric
Increase in collaboration with other teams
Seamless integration of services
Scalability
Cost Efficiency
User-friendly experience
One Copy Principle
Want to know more about Microsoft Fabric?
Want to know more about Microsoft Fabric as a service? On October 26 we're organizing a Fabric Masterclass that dives deep into different Fabric use cases for Data Science, Data Engineering, and Data Visualization.