What are power apps?
To put it in Microsoft's words: "Power Apps is a suite of apps, services, and connectors, as well as a data platform, that provides a rapid development environment to build custom apps for your business needs."
Power Apps enables you (an accountant, engineer, chef, CEO) to build applications that solve your problems regardless of their size.
What is low-code?
Low-code is a way to build applications quickly in a "drag and drop" environment. Low-code enables anyone with a desire to build apps quickly and create something without having to understand coding languages like Java or C++.
On top of that, Low-code also enables you to connect to a variety of back-ends or third party services without having to manually connect to an API or other complex connection tools.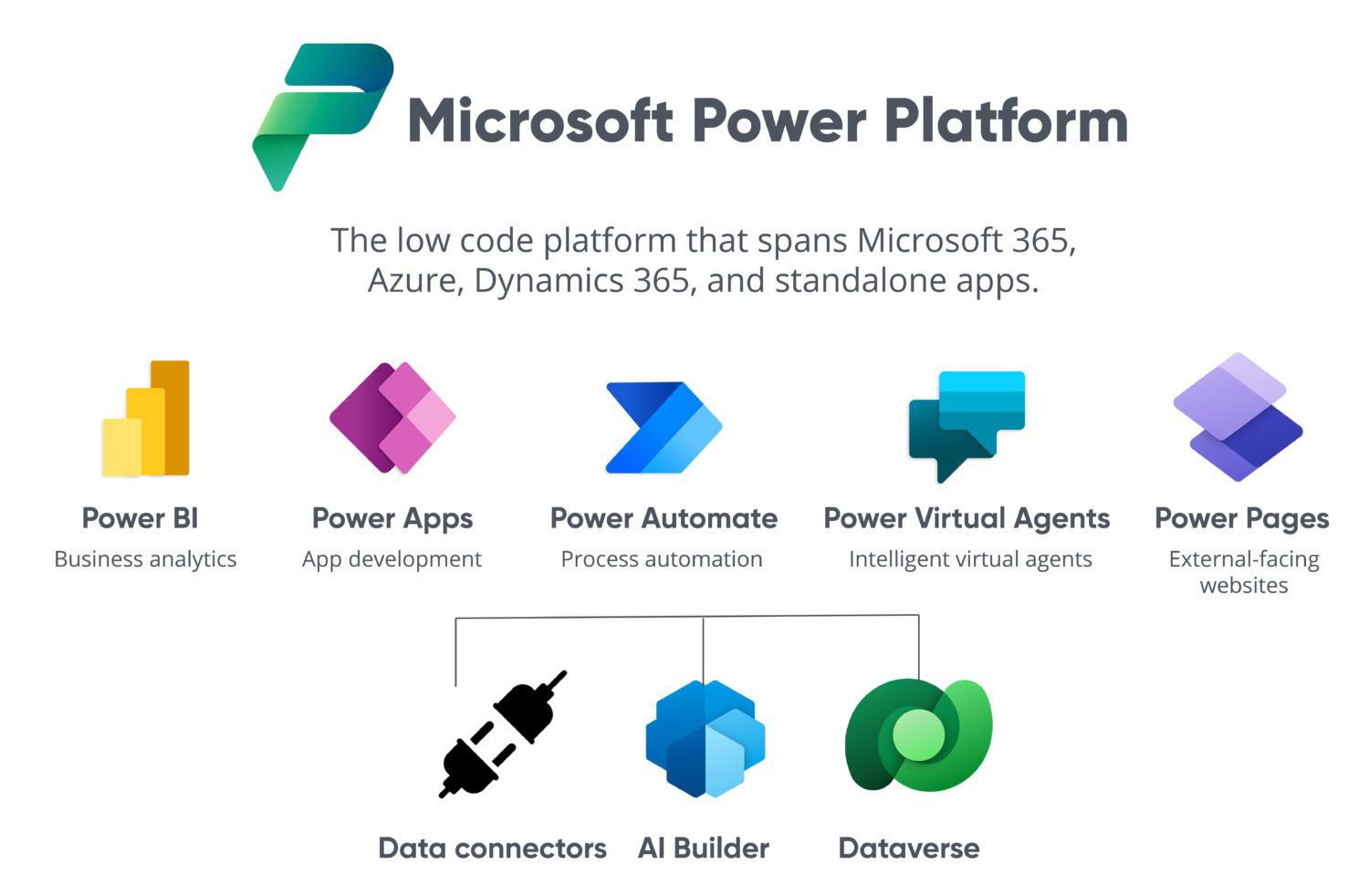 What can low-code offer me?
Automation
Re-usability
Scalability
Rapid development
Cross-platform applications
What are the low-code apps within the Microsoft Stack?
The bread and butter of the low-code Power Platform. It enables you to create applications that display data and allow you to interact with your data directly. Power Apps enables you to build applications for both Mobile and web by using a drag and drop interface.
If you want to create automated processes running in the background, this is how you do it. If you want to send emails after new records are created, while at the same time notifying users, Power Automate does this with just a few clicks.
Power Virtual Agents
One of Microsoft's newest offerings allows you to create chat bots using a low-code approach. Chat bots can be deployed internally on Teams or on your own website. They enable users or customers to find answers to problems without the need for a human-ran support centre.
With Power BI, you get even more out of Business Intelligence. Create stunning visuals that provide deep insights into your data and financials. Use forecasting to better predict changes in upcoming time periods and adjust your business planning accordingly.
Power Platform use cases
Imagine you're an accountant that has to modify data in excel based on the parameters that someone emails to you on a daily basis. Based on these emails, you want to have an overview of all of your data to be able to show to management during your monthly meetings and, on top of this, you want to be able to modify something within the data on a last minute basis if needed. The Power Platform and it's low code tools can help you automate a large part of your workflow. Here is how:
We'll use Power Automate to scrape the values from the email and modify the excel sheet.
Once the sheet is modified, we can create a dashboard to have a full overview using Power BI to present at your monthly meetings.
And lastly, we use Power Apps to create a small app that you can modify your data from, if case last-minute modifications are needed.
Lastly, we could create a Virtual Agent to enable colleagues or clients to request copies of documents from a certain case file using a specified password.
Benefits of Low-code
Save time and money
No need to hire a full stack developer
Custom solutions for custom problems
Easy to implement
Rockfeather & Low-code
Here at Rockfeather, we know that not everyone has the budget for their business ideas to become reality. That's why we offer both trainings in low-code as well as building services. We empower everyone to become a citizen developer – this enables you to build things in your own time, with your own tools. If you get stuck or need help, you can be sure that Rockfeather will be there to lend a hand.
For the more advanced projects, we use all of the tools above and more to create fully fledged desktop and mobile applications that can be exported and deployed to your environment seamlessly.